Jurassic World: Dominion Dominates Fandom Wikis - The Loop
Play Sound
Character Sheet for Aberrants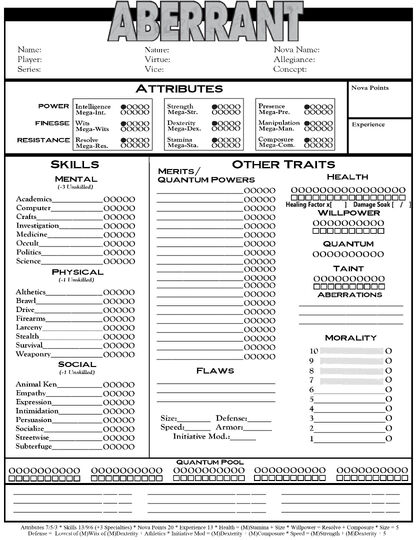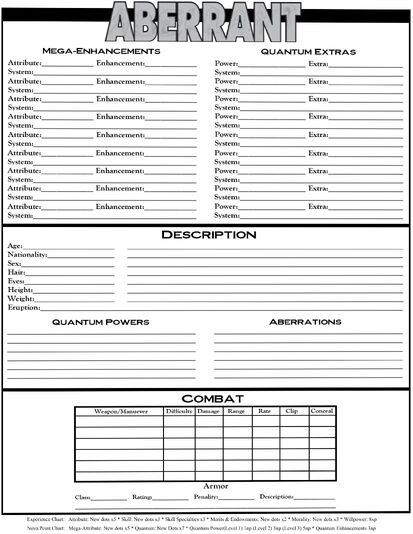 Starting Points
Starting Points (Stronger W/ More Taint)
Attributes 7/5/3
Skills 13/9/6
Nova Points 30 (Spent the same as experience)
Experience 15
Quantum = 3
Taint = 3
Starting Points (Weaker W/ Less Taint)
Attributes 7/5/3
Skills 13/9/6
Nova Points 25 (Spent the same as experience)
Experience 25
Quantum = 2
Taint = 1
Calculated Skills
Defense = Lowest of (Mega)Wits of (Mega)Dexterity + Athletics
Health = (Mega)Stamina + Size
Initiative Mod = (Mega)Dexterity + (Mega)Composure
Size = 5
Speed = Strength + (Mega)Dexterity + 5
Willpower = Resolve + Composure
 Quantum derived traits
Quantum Pool: This pool is now derived by a simple formula. [Quantum x 3] + [willpower x2]. That means bare minimum quantum pool will be 7, and the standard highest, will be 35 (quantum 5, and willpower 10). Nova points and experience points can still be used to increase this pool. 
Mega-dice: These dice are counted like normally for determining success. The number of dice that you add to any roll related to that mega-attributes is your [Quantum x Mega-Attribute]. Example, A character with a quantum trait of 4 and a mega dexterity trait of 2, would add 8 dice to any normal dexterity related roll.
Costs
Experience Points
Attributes: 5 x Dot Exp.
Merits: 2 x Dot Exp. or 2 per Dot Exp.
Morality: 8 x Dot Exp. (Up to the Inverse of Taint i.e 10 - Taint)
Skills: 3 x Dot Exp.
Specialty: 3 Exp.
Devils Deal: 1 pt Temporary Taint = -2 Exp. Transaction Cost
Nova Points
Mega-Attribute: 5 x Dot NP
Mega-Enhancement: 3 NP (First ones free)
Quantum: 8 x Dot NP
Quantum Pool: 1 NP
Quantum Power Level 1: 1 NP
Quantum Power Level 2: 3 NP
Quantum Power Level 3: 5 NP
Half-Price Deal: 1 pt Taint => Half off Nova Point Transaction Cost (Rounded Up)